Home
Brand 360
Brand 360 Branded Content Studio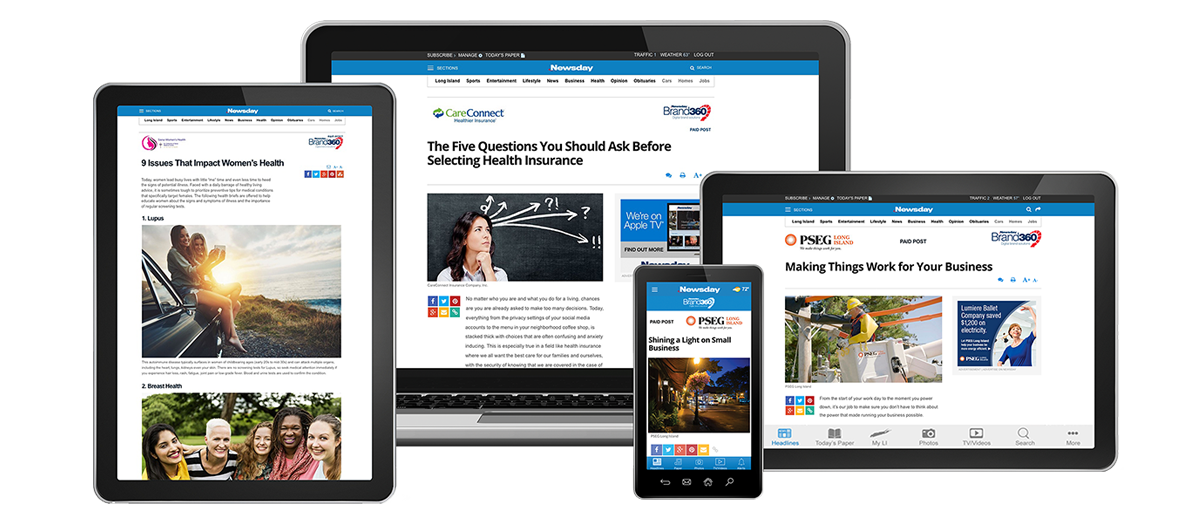 Utilize the Power of Branded Content to Promote Consumer Engagement and Response
Branded content represents an increasingly popular and effective means of promotion for marketers. Custom content in the form of articles, photo listicles and video productions helps marketers bring their brands to life. Storytelling—using this digital form of advertising—is more organic, authentic and memorable, with compelling copy and visuals that increase viewability and shareability. With branded content/native advertising, marketers control the media and the messaging to offer actionable information about their brands.
Where Storytelling Leads to Success
CASE STUDIES
PSEG Long Island
Newsday Media Group partnered with PSEG Long Island in Fall 2016 to positively engage existing small business customers with the brand and to reinforce the excellent, around-the-clock customer service offered by PSEG Long Island.
Brand360 program featured the following:
Two (2) Brand360 native articles
Headline placement drivers on Newsday.com Homepage and Section Fronts
Display banner driver ads on Newsday.com (Geo/Demo-targeted)*
Social Media Ad Drivers—Geo-, Demo-, Behavioral-Targeted
* Display banners additional. Each campaign is customized per client, based on objectives and budget.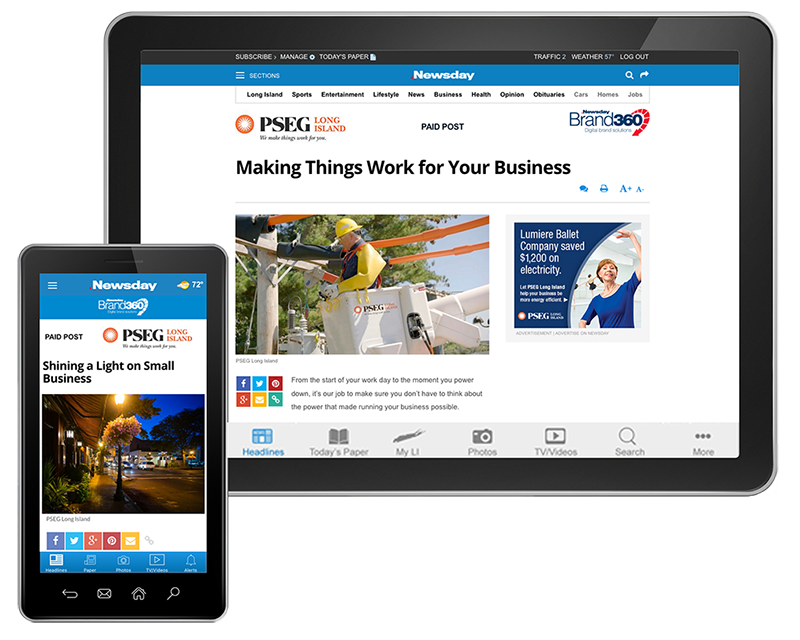 Branded Content Ranks High in Positive Consumer Response
Many native ads are viewed for the same amount of time as editorial content, and native ads are far more likely to be shared—increasing your viralability 1
Consumers are 25% more likely to look at native advertisements, and 53% more likely to engage with that advertisement in a positive and potentially profitable way 2
31% are more likely to buy from a brand after viewing a native ad 2
77% of respondents do not interpret native ads as advertising 2
Sources: 1. ClickZ.com, May 20, 2015 2. The Tow-Knight Center for Entrepreneurial Journalism at CUNY and Radius Global Market Research, Focus Group of 1,212 adults.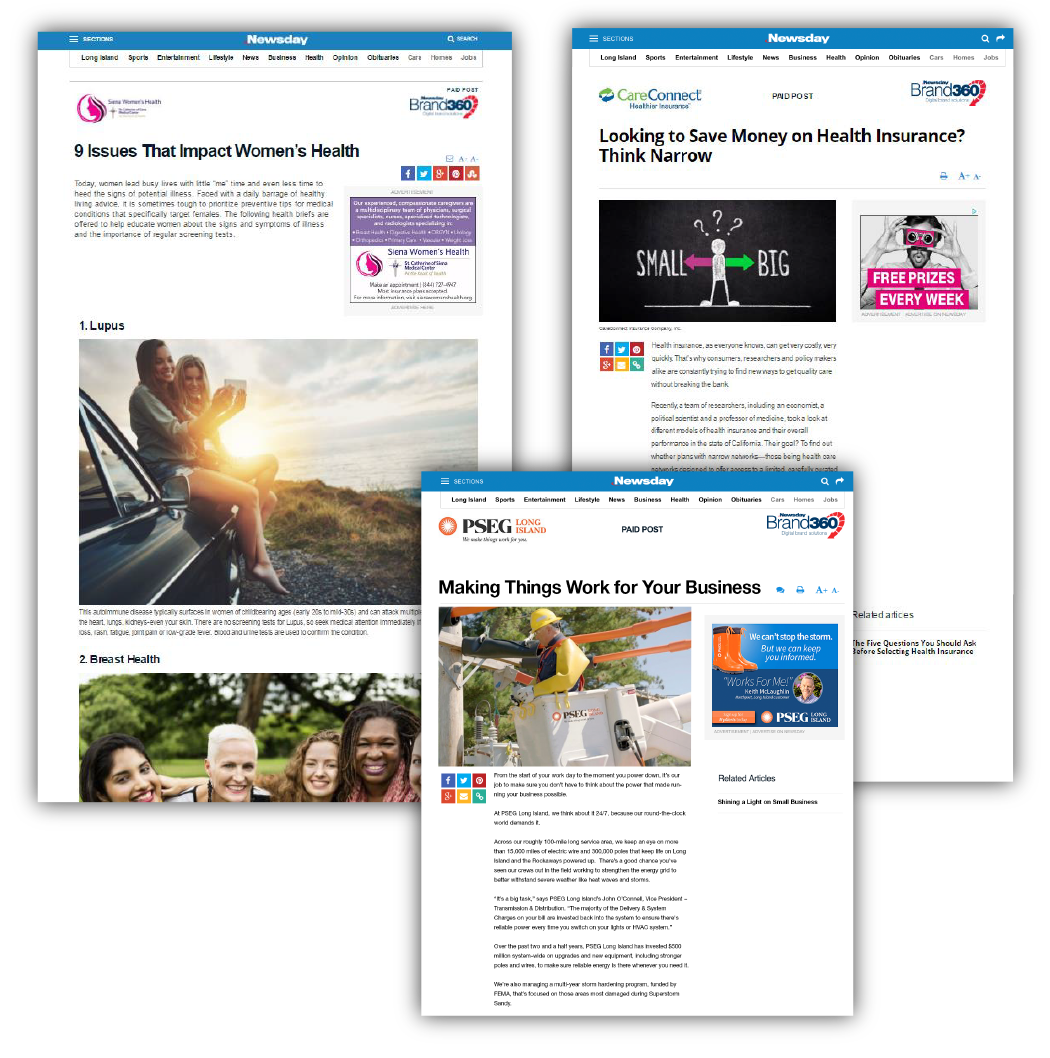 Format Your Content to Best Impact Your Message
Branded Content Options
Supply your copy or opt to have our in-house creative team write and design content for you.
Formats include:

Articles
Photo listicles
Video galleries
Contests and Sweepstakes

Links to your site or landing page
Optional branding ad with 100% SOV
Layout and design elements are subject to change.
Drive Views, Stimulate Engagement
Brand360 Amplification Package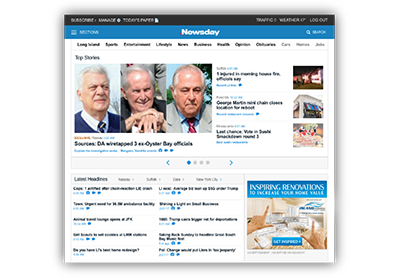 ROS Native Ad Placements
Any successful sponsored content campaign drives from page one and throughout the run of site to your branded content. Newsday Media Group offers engaging native advertising on the home page and throughout the amNY.com and Newsday.com sites.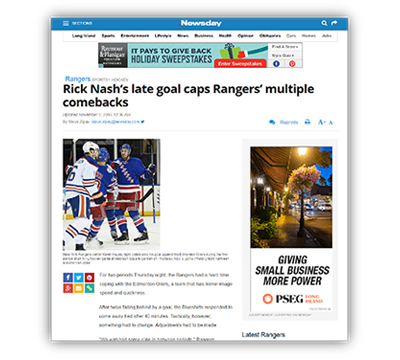 Branded Ad Units
Newsday Media Group's Brand360 team helps you create a set of results-oriented banner ad units, designed to drive traffic directly to your Brand360 content on Newsday.com.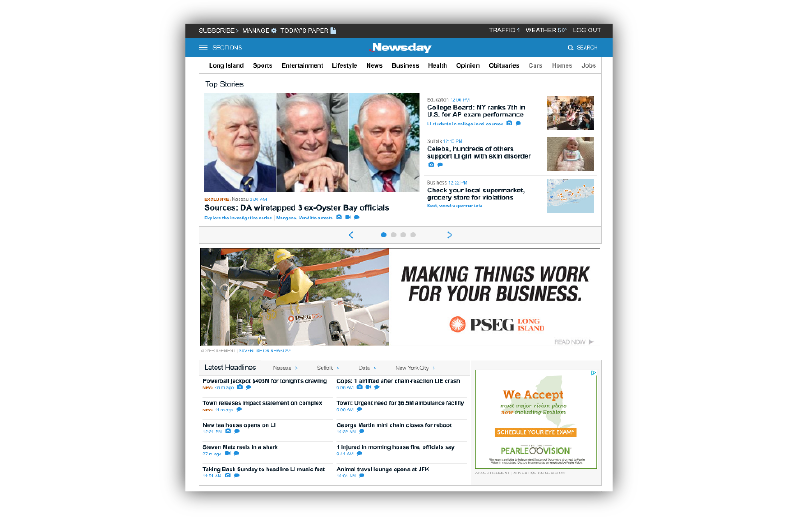 Audience Targeting
Brands can leverage display advertising by linking directly to the featured Brand360 custom content. Audience targeting on all banners ensures your message is served to your best prospects.
Audience tagging (pixels) on banner, providing audience interaction analytics
Sample Targeting Segments: Homeowners, Parents of High School Students, Net Worth, "In-Market" Buckets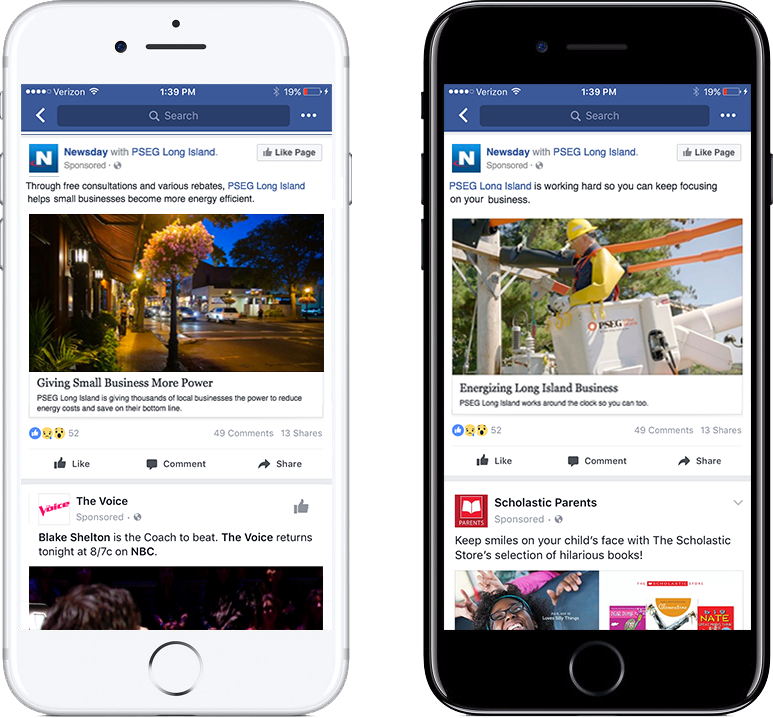 Social Amplification
A robust social media campaign drives users to Brand360 content and encourages sharing.
Handshake icon tagging of your brand creates further enjoyment for your message
Social amplification on Facebook and/or other social media networks
Audience segmentation includes: Geographic, Demographic, Behavioral, Interest and Intent
Social amplification campaign designed to generate Brand360 article clicks, unless otherwise noted
* Handshake icon on Facebook subject to editorial approval